Pastor Dr. Mike James
Pastor Mike has served churches in Virginia, Tennessee, and Kentucky and led numerous conferences in discipleship, Sunday School, church growth, marriage and revivals. He also served with the Kentucky Baptist Convention as South Central Strategist and Discipleship/Assimilation Coordinator. His passion is to see people come to faith in Christ and grow in their faith. "I believe Christians today should be excited about their faith, deepening their walk with Christ, and engaging this culture with the Gospel."
He co-authored, The V.E.L.C.R.O. Church book with Dr. Ken Hemphill. This book came out in December 2011 and has been used by many churches to improve their outreach and assimilation process.
Family: Pastor Mike's wife, Kathy, is from Versailles and he was born in Frankfort but grew up in Stanford Kentucky. They have one son, Michael, and 2 grandchildren. Mike graduated from Eastern Kentucky University, Southern Seminary and has a Doctor of Ministry degree from Regent University.
Hobbies: guitar playing, fishing, running, traveling, motorcycles, and spending time with my family.
Stephanie Blanton,  Worship Leader – Stephanie has served in the music ministry for over 9 years, working with children's choir, worship team, worship band and playing piano in worship. Stephanie has been a member of Pinckard since 2002. She and her husband, Chris, have two children, Karlee and Tyler. Stephanie has an Associates degree in machine shorthand reporter program and works as a court reporter with An/Dor Reporting Services & Video Technologies, Inc. in Lexington.
Bryan Watts, Student Pastor – Bryan has been in student ministry for five years and is passionate about seeing young people know and follow Christ. His mission in life is to worship Jesus fully while leading others to do the same. Bryan is a graduate of Southern Baptist Theological Seminary and is married to Brittiany. She is studying at Eastern Kentucky University for her teaching degree. His passions include Kentucky basketball, LSU football and NASCAR.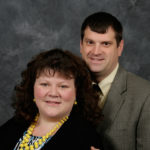 Scott & Staci Davis, Family and Children's Ministries Coordinators Scott and Staci have been involved with the children at PBC for many years through plays, set design, music, VBS and more. They have been members of Pinckard for 13 years.  Scott and Staci have two children Faith Ann and Laney. Both are Engineering and Technology teachers in Fayette County Public Schools where they have been teaching for 17 years. Staci enjoys singing, traveling as a family, and being the advisor for the SMS Technology Student Association. Scott enjoys shooting sports, camping and carpentry.
Cecil & Pat Hays, Custodians