One of the things we get excited about around here is Vacation Bible School! We would love for your child to join us this year, July 22-26, and get in the spirit today with Game On!  Go to our Children's Ministry page for a link to the registration form.
Since 1935, Pinckard Baptist Church has been ministering to people in our community and beyond. From a small white frame building to the present facility we have, the dream continues of reaching and sharing the Gospel with as many people as possible.
We really hope you and your family can participate with us each Sunday. If you have questions or if I can be of any ministry to you or to your family, please don't hesitate to call or email me.
Hope to see you this Sunday, Bible in Hand.
---
At Pinckard Baptist Church, our mission is to make disciples who Gather, Grow and Go…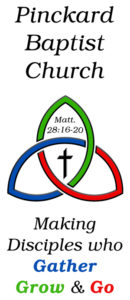 Gather
We gather on Sundays to worship the Lord and express our love for God.
Grow
We grow through small group Bible study (Sunday School) and special discipleship studies on Sunday and Wednesday nights.

Go
We go and share Christ by ministering in our neighborhoods and around the world